Saturday morning we were lucky enough to actually get that much wanted cool front. With it we actually got rain. We got 1-1/2 inches of rain here at the house. Much needed rain. The other nice part of the rain, was we did cool off some. Not for long, but a couple days of just below 100 was much welcomed relief.
I'm sure the yard will be so much happier that we got some rain. We also have an unusual weather condition coming up. There are two storms headed our way, Laura and Marco. Marco, I think, is expected to make landfall today somewhere near New Orleans. Laura is expected to make landfall in a couple of days. What will happen with either remains to be seen, but rain is in the forecast, probably Wednesday or Thursday. I'll keep you posted.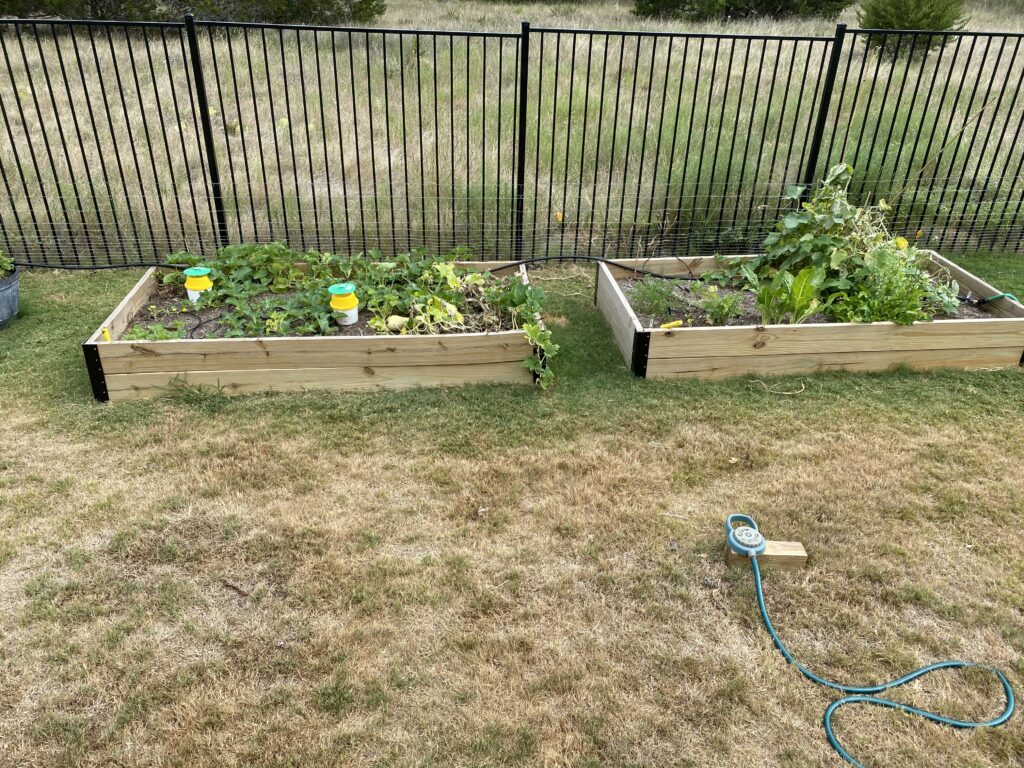 As I mentioned before, I had these two raised beds put into my yard for growing my veggies. Even though I haven't had as much success this year as I had hoped, I'm keeping positive as I get to know my yard better.
But the reason for this image is to point out the consequences of my choice. This is not about good or bad choices, this is just about the learning process. When we purchased this house it had a front and back lawn with installed sprinkler heads. That's the good news. The land was already graded to allow for water drainage. My beds don't seem to impact the water drainage. BUT, the beds do impact the sprinkler heads. The sprinkler heads do not pop up high enough to water beyond the beds. The heads do pop up, but the water can't quite clear the beds. Consequently I have the dry spot in front of the beds where the grass is dying.
And if you're wondering why there is green grass on this side of the beds, its from the drip watering system inside the bed. It sprinkles just outside the bed too.
Now I don't have a problem with this, I can water the area easily. That's why I have a hose with a sprinkler head. Its actually on top of the piece of wood to keep it level. It kept falling over whenever I turned the water on, so I put it on a piece of wood to keep it more stable. It does work on my yard.
Eventually, maybe next year I will see about what to do about the sprinkler heads. I'm sure there must be a way to get them to pop up higher, even if I have to get new sprinkler heads that do that.
But the whole point here is, if you make a change, it may impact something else. Just be aware of that, even if you didn't foresee it. Most things are fixable. My problem here, the dying grass area, is not the end of the world. Its fixable, and even a small fix as far as I'm concerned. But I personally will accept I have to fix this in order to keep my garden. Having my garden matters more to me that this drying grass spot.
But that's just me.